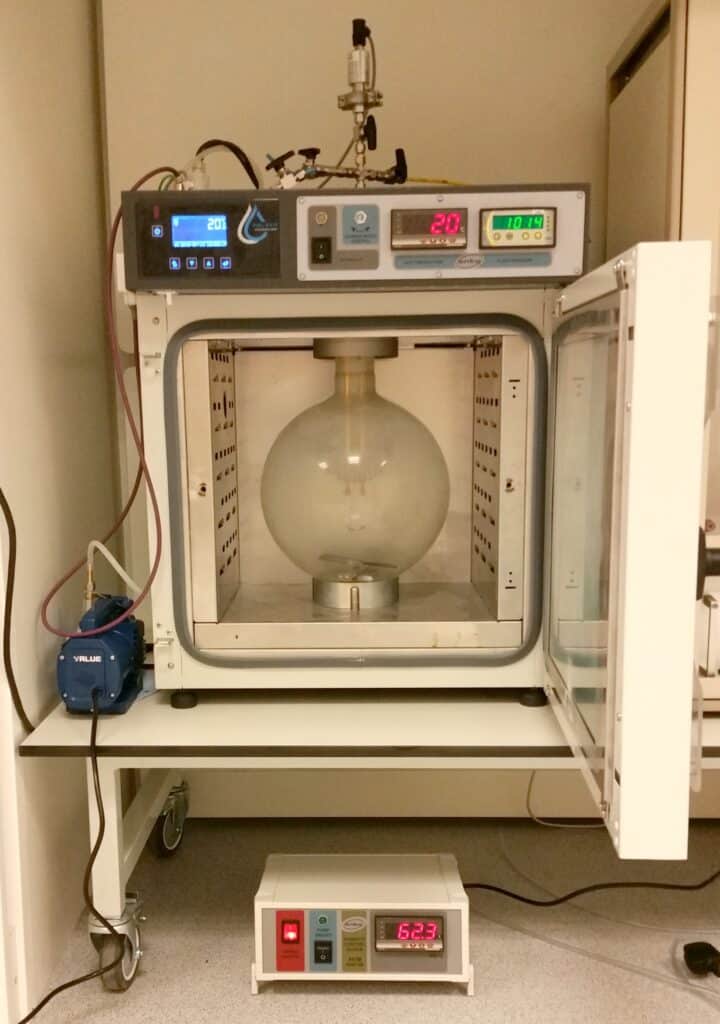 Our laboratories generate comprehensive test data on the potential flammability and explosivity of gases and vapours in your work environment
Test your gases & vapours
Gases, vapours and similar substances have the potential to create risk for fire and explosions. Understanding the properties related to the risk of these hazardous materials is essential to optimising safety for your processes.
Sigma-HSE's gas & vapour testing labo0ratory offers comprehensive standard and custom testing packages to aid you in the identification of potentially hazardous gases and vapours in your work environment.
Discover our range of tests
We offer a wide range of gas & vapour tests.
Discover our range of tests below and get in touch for a
free consultation today.
Auto-Ignition Temperature (AIT)
The auto-ignition temperature (AIT) test is conducted to determine the lowest temperature at which a substance will produce hot-flame ignition in the air at a specific atmospheric pressure, without the aid of an external energy source such as a spark or flame. It is the lowest temperature at which a combustible mixture should be raised, so that the rate of heat evolved by the exothermic oxidation reaction will overbalance the rate at which heat is lost to the surroundings and cause ignition.
The test is predominantly conducted on liquids, however gases and solids capable of full vaporisation so they can be tested using the method below:
Working through a range of material concentrations, the material is injected into a heated and thermally stabilised, 500 ml round bottom flask. Once an ignition temperature is observed, the flask temperature is reduced, and the material concentration is varied until an AIT is established.
The AIT is required to define the maximum permitted surface temperature of electrical and non-electrical equipment used in areas where potential testing material is present. This allows for the correct and appropriate designation of equipment based on their temperature or "T" Class.
Many products are incorrectly given an AIT based either on untrustworthy literature or on its worst-case component (component with the lowest AIT). Other inert or less sensitive components within the product can greatly affect the overall AIT of the product. These products will usually produce a higher AIT.
Flammable Limits (LEL / UEL)
Can't find the tests you need?
Get in touch with one of our experts to see how we can help
From flashpoint testing to auto-ignition temperature, Sigma-HSE is your process safety solution provider for gas & vapour testing. Our dedicated team of experts are committed to helping you ensure and maintain compliance by testing potentially combustible gases & vapours and then providing you with comprehensive and actionable testing data.
How to get your gases & vapours tested
Receive quick and accurate data in just a few simple steps
Test the flammable properties
of your gases & vapours
Getting your facilities gases & vapours tested is an important aspect of safety
compliance. Learn more about how we can assist you today.